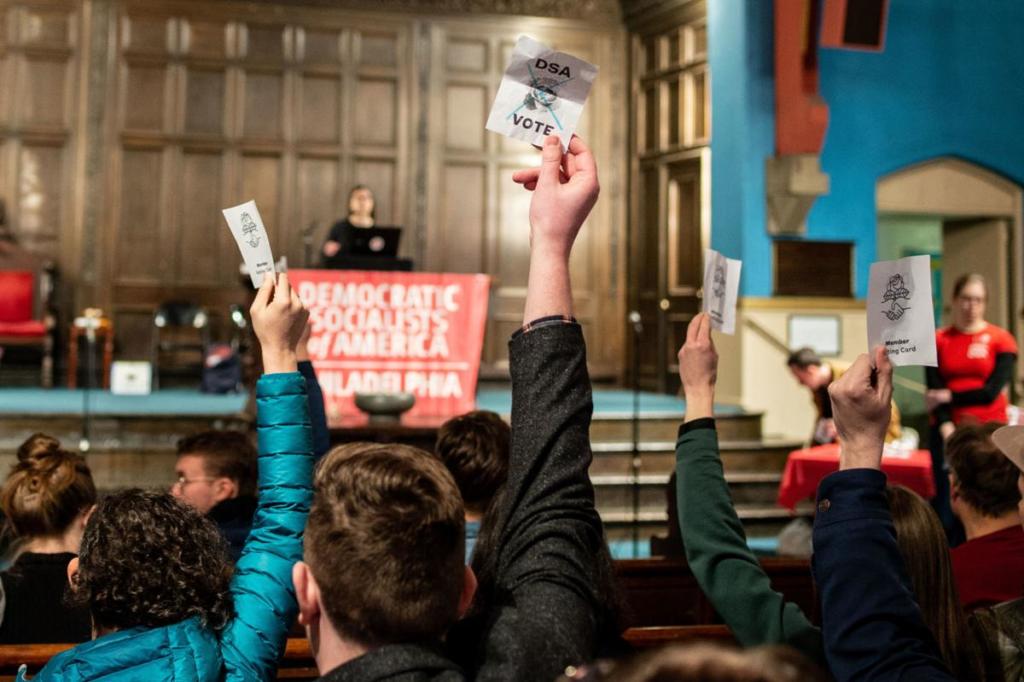 On Saturday afternoon, when the co-chair of Philadelphia's chapter of the Democratic Socialists of America called a vote on a resolution to endorse Bernie Sanders in the 2020 presidential campaign —
Whereas, the Democratic Party primary will be hotly contested, the liberal establishment will do everything in their power to undermine Sanders including courting affluent suburban voters to the exclusion of the working class, glorifying "moderate" Republicans and putting forward faux progressive alternatives while carrying water for their Wall Street donors … Therefore be it resolved, that Philly DSA encourages Senator Sanders to run for President in 2020 through the Democratic Party primary.
— the support was so overwhelming, voting cards didn't need to be counted.
It wasn't unanimous, but it was close. No surprise there. Bernie Sanders, who launched his campaign at a rally in Brooklyn at the same time Philly DSA was voting to endorse him, has as much to do with the growth of the DSA over the last few years as anyone. Two weeks ago, when Sanders announced he was running, the group's National Political Committee sent out a bulletin asking local chapters to start talking about a potential Bernie 2020 strategy, and to debate resolutions that will inform the national's own vote on whether to endorse his candidacy, which is scheduled for later in March. Sanders is the only avowed Democratic Socialist in the race, and, most DSA members agree, the most consistent champion of the working-class causes the group holds dear.
At Saturday's Philly DSA meeting, there was some dissent on his endorsement, but when the vote was called, the response was enthusiastic. The room burst into applause, and there was a short eruption of chanting in the front rows. Then, the group spent at least two hours debating a set of revisions to its own organizational bylaws, sometimes bitterly.
Despite the majority of Philly DSA members favoring Sanders, there has a been a growing rift within the organization that reflects a fundamental difference in vision about how the group should organize itself and what kinds of work it should do. The details of that rift are kaleidoscopic, articulated in excruciatingly fine-grained blog posts and biting Tweets that could fill several issues of this newspaper.
It would be a mistake to either overstate or understate their importance, or, for our purposes, to look at them too closely. But broadly speaking, on one side of the rift is the Steering Committee, and on the other side is the Local Initiatives/Local Action Committee (LILAC) and an informal group, launched last fall, called the Campaign for a Better Philly DSA. The primary grievance of the latter parties is that the Steering Committee wields its administrative power to limit the ways that Philly DSA members can self-organize and enforces a narrow emphasis on a few nationally focused initiatives.
––
"We've done a lot of really strong local work. It seems to me that the division in the chapter is more between a kind of 1990s, anarchist-y, Occupy-ish kind of politics, and a Democratic Socialist politics that is more in line with committing ourselves to reforms, and committing ourselves to long-term campaigns."
– Dustin Guastella, Steering Committee member of the Democratic Socialists of America Philadelphia chapter
––
"What this reflects is a question about what our local should be working on," said Shelly Ronen, a member affiliated with both LILAC and the Campaign for a Better Philly DSA. "Should our local [chapter] welcome these members that are excited about expanding our capacity and developing the work we do to include justice for people who have unstable housing and underfunded schools, to resist charter-ization, to force Penn to pay payments in lieu of taxes? Or, alternatively, should DSA focus primarily if not entirely on national-level struggles like Medicare for All? That's really, I think, what's been animating a lot of the discussion between rank-and-file activists and elected or appointed leaders."
Philly DSA co-chair Melissa Naschek, a Steering Committee member who presides over the general meetings, framed the conflict differently.
"What I think is most strongly motivating people on either side of this is a different vision of what it means to say that you are running a democratic organization," Naschek said. "How I would characterize what I believe, and what others who agree with me believe, is that democracy means figuring out a way for the membership to decide how to allocate its resources and where to invest its time, and determining the political direction of the organization through collective deliberation."
If you're not a member of Philly DSA, should you give a shit? I don't know.
DSA is still very small, but it has grown extraordinarily quickly in the last few years. In some places, the group has become an influential political force, with high-profile wins like the election of Congresswoman Alexandria Ocasio-Cortez in New York and, just last week, a small slate of DSA-backed aldermen in Chicago. Philly DSA helped campaign for State Representative Elizabeth Fiedler, and supported the almost-winning campaign of Kristin Seale in Delaware County. How it evolves, and how it spends its energy, could have long-lasting implications for local politics. The fact that it spent its last meeting before the 2019 primary election in Philadelphia endorsing Bernie Sanders and debating its bylaws raises questions about how it sees local campaigns playing into its broader goals.
Before the meeting on Saturday, Sherrie Cohen, a candidate for an at-large City Council seat in the Democratic primary election in May, was standing outside the DSA meeting, at the First Unitarian Church in Center City, greeting potential voters. Cohen was a Sanders delegate during the 2016 Democratic National Convention, and says she joined Philly DSA sometime in the last year.
"I'm all for Bernie now, but between now and 2020 is 2019, and I think it would be great for DSA to say that Philly politics matter also, because so many people, most people, are affected by what goes on at City Hall and in City Council," Cohen said. "I haven't been involved long but I haven't seen that they've had a focus on Philly city politics, and I believe that they can make a big difference here like they're making now in Chicago … This number of people involved on the local level could definitely get me into office, and other allies."
Conversely, how Philly DSA engages in local issues could have implications for how the organization grows. Between the end of 2017 and the end of 2018, Philly DSA's membership nearly doubled to more than 1,000 people, according to figures announced at the general meeting in December. It has since shrunk to 840, according to Naschek. Part of that is probably due to a spike in interest in activism in the early days after the election of Donald Trump that has since deflated, Naschek said. But Ronen said that "a great many wonderful comrades" have simply quit because they couldn't find support within the chapter to do the kinds of work they want to do.
It's not that Philly DSA has ignored local issues. Beyond the Fiedler and Seale campaigns, the group helped organize support for Fair Workweek legislation that passed in City Council last fall, securing new scheduling and pay protections for workers in retail stores, hotels, and chain restaurants. At the December meeting, City Councilmember Helen Gym, who sponsored the Fair Workweek legislation, showed up to thank the members for their support. On Saturday, the membership voted in near unanimity on a resolution urging City Council to adopt a Domestic Workers Bill of Rights. And individual members are involved in a range of local efforts; one DSA member, Adrian Rivera-Reyes, is running for an at-large Council seat as a Democrat, and another member is managing his campaign. In some ways, the question of how Philly DSA relates to local efforts versus national ones is separate from the issues dividing LILAC and the Steering Committee.
But LILAC formed out of a sense that Philly DSA was engaged in a much narrower set of initiatives than other local chapters. (Its origins go back to an online discussion group among Philly DSA members that was simply called "Doing Things.") Some LILAC-affiliated members say the Steering Committee's approach to running the chapter actively discourages work on local issues that members want to organize, and undercuts opportunities for coalition-building with other local leftists. In November, the co-chairs of Philly DSA sent out an email urging members to attend the general meeting instead of a simultaneously scheduled counterprotest of a right-wing Proud Boys rally at Independence Hall, calling the Proud Boys as "far-right LARPers." Some members read the message as being dismissive of the kinds of threats that motivate a lot of local activists.
The divide manifests in a million ways. The agenda for the general meeting in November included a resolution to create an ad hoc committee focused on the 2019 municipal primary elections. But there wasn't time to consider that resolution, so it languished, and since the meeting on Saturday was dedicated to Bernie 2020 and bylaw revisions, that resolution is now probably moot. Some LILAC members say the outcome was one the Steering Committee wanted all along.
"Things that [the Steering Committee] didn't want to pass were at the very end of the agenda, and we didn't get to them," said Jesse Kudler, who helped start LILAC. "Those are the kinds of coincidences that make people uncomfortable."
Naschek said there's no merit in the notion that the Steering Committee tried to keep that resolution from being debated. She said she wishes the chapter had gotten involved in the local 2019 elections earlier, but that in an organization like DSA, the general membership is the final authority anyway.
"I think it was just that the people that were most interested in that work didn't make enough effort to push it forward," Naschek said.
At times during Saturday's meeting, the general feeling of solidarity in the air was about what you'd expect to find in the handshake line after a lopsided little league game. During the debate over the bylaws, speakers lined up on two sides of the chapel. On one side were speakers in favor of an amendment, sponsored by Kudler, which would allow any Steering Committee member to "be removed for any reason by written resolution, approved by a majority of the members present and voting at an assembly of the Local." On the other side were speakers opposed to the amendment.
"If this amendment passes," said one of the opponents, "what you're going to see is every one of these general meetings turn into a show trial."
Underlying all of this is the observable fact that Philly DSA's membership is almost entirely white. (That's not just a Philly issue; The New Republic devoted an important piece, headlined "Do America's Socialists Have a Race Problem?" to it in December.) During the bylaws debate on Saturday, the group was considering an amendment that would require at least two of the four elected officers to "self-identify as people of color." A white man speaking in opposition to the amendment said it could lead to people of color being overburdened with responsibilities in the chapter, and asked how many people in the room were people of color.
"That's the problem!" a woman shouted from the back. (The amendment passed.) Some people of color feel isolated within the organization. As one woman of color argued in a post on the Campaign for a Better Philly DSA website in November, the Steering Committee's resistance to self-organized member initiatives makes that sense of marginalization worse. There's no one in Philly DSA who doesn't acknowledge its lack of diversity as a problem, but members of the steering committee say the solution is not to let members organize whatever campaigns they want under the DSA banner, but to build stronger bonds with the multi-racial working class.
"We've done a lot of really strong local work," Dustin Guastella, a member of the Steering Committee, said after the meeting on Saturday. "It seems to me that the division in the chapter is more between a kind of 1990s, anarchist-y, Occupy-ish kind of politics, and a Democratic Socialist politics that is more in line with committing ourselves to reforms, and committing ourselves to long-term campaigns."
In any event, there's a big portion of the membership that isn't totally polarized to one side of the LILAC/Steering Committee divide. And nationally, DSA's cachet is still on the rise. Paul Prescod, secretary of Philly DSA, said at Saturday's meeting that he has identified as a socialist since 2010, but it's only in the last few years that he's felt "a certain confidence and a certain swagger about these ideas." It's possible that the divisions in Philly DSA will fizzle out, or calcify into intra-organizational caucuses, or blossom into a full-blown schism. Each of those outcomes would have different implications for Philadelphia politics.
In the meantime, as Guastella said at the end of our interview on Saturday: "Bernie 2020, baby!"
TWITTER: @JAREDBREY